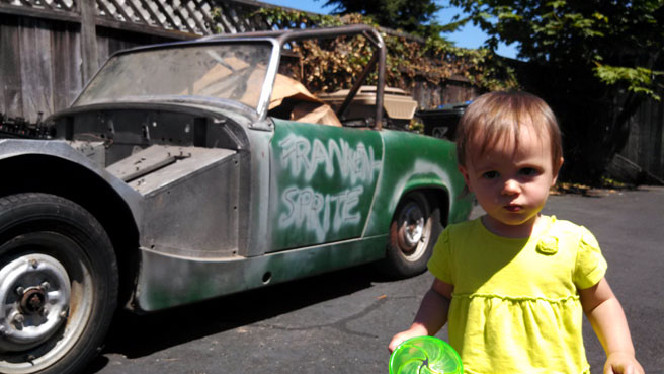 Nothing beats the convenience of a smartphone app. That is, unless it's a little too convenient. Enter 14 month old Sorella Stoute: juice drinker, trouble maker, car buyer. The young gearhead got a hold of her Dad's smartphone and launched the eBay app. A few Cheerio crumb-smeared taps later, she had bought a 1962 Austin Healey, affectionately named, 'Frankensprite.'
Her Dad, Paul Stoute, learned of the purchase when he received a notification from eBay congratulating him on the purchase of the car for $200. His initial reaction was…
"Panic … initial panic, just what do we do," Stoute said. "We can't really afford it kind of thing".
In the end, they decided to keep it as it seems Dad is a bit of a car lover himself.
"I'm just glad she didn't buy the $38,000 Porsche I was also looking at."
Paul hopes to restore the car and perhaps give it to Sorella for graduation or her 16th birthday. He better, I mean, c'mon, she bought it after all.