Viewing things in 3D is all the rage these days. Whether it be 3D movies, televisions, or video games, tons of people seem to think it's the coolest new trend. What if you could have a 3D experience on your laptop, too?
Spatial View, Inc., has launched a snap-on screen that attaches to your laptop, allowing you to have the 3D experience without the ridiculous glasses. It is designed to work on any supported 15.6-inch laptop. Simply attach the easy-fitting magnetic screen cover, used in conjunction with the special downloadable 3DeeScreen Software, and stare in amazement as items on your screen suddenly pop out at you.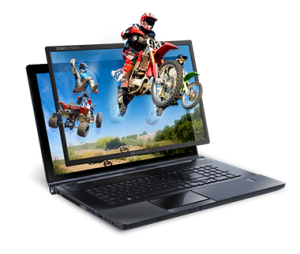 The 3DeeScreen will allow you to watch 3D blu-ray movies on computers with a compatible drive, glasses-free! Additionally, Spacial View offers a wide range of downloadable 3D videos and images on their 3DeeCentral site.
Since the screen simply snaps on and off you can get the best of both worlds. Right now the software is compatible with only a handful of laptop models, including the Dell Inspirion and a few HP laptops with a 720 p or 1080 p screen resolution and a Blu-Ray disc drive. The software also requires a web cam, since the software tracks your head movement and adjusts images accordingly, making sure you have the best viewing experience.
If you're in love with seeing things in 3D and have an extra $130, plus all the other requirements, the 3DeeScreen might make all your viewing dreams come true.