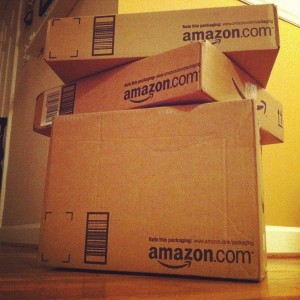 Killer news for Amazon Prime users, Amazon is giving Amazon rebates for customers willing to wait a bit longer for their shipments.
Not guaranteed
The option may not be available for every order, and for some it may not even be worth a credit. Amazon's explanation reads:
Promotional credit may be offered for selecting No-Rush Shipping. If it is, you'll see it advertised during checkout along with a "Learn More" link with additional details. Any credit will be automatically applied to your Amazon.com account once the first package from a No-Rush Shipping-eligible order ships. We'll send you an e-mail as soon as the credit is available for you to use.
Similar to trade-in
There are quite a few benefits for Prime members. This benefit, like Trade-ins will only be offered if the order goes through, and (it seems) after the return period has lapsed.
You may select No-Rush Shipping as many times as it's offered to you, but you will not be eligible for the credit if you cancel your No-Rush Shipping order or return items from it.
Faster or cheaper
This brings up an interesting question: is 2 day too fast? For me, Prime is an obvious purchase because of the 2 day shipping. I would almost never use the No-Rush option.
If this turns out to be popular, and becomes a permanent addition to the delivery options, what does that say to where we've come in logistics and online purchasing? People would be saying (with their wallets), that we've reached 'fast enough' and they'd rather a credit towards Amazon content than faster delivery of the product.
Joshua Howland
Joshua is a mobile application developer, entrepreneur, and technology enthusiast. He is currently building a company that focuses on educational mobile applications: LearnStack. His favorite posts to write compare companies and products. He loves sports and start ups and talks about them (along with tech) on Twitter (@jkhowland) and his blog (jkhowland.me).