I was trying to write an article on HPs new lineup of computers that were recently announced, but before long, my head was spinning from all of the ultrabook, fauxtrabook, sleekbook nonsense. I am admittedly unfamiliar with HP's product lines, so maybe these names make sense to those who have followed HP's products for more than the hour I spent this morning trying to understand what the different lines were. But then again, 99% of the target market for these laptops is in the same boat that I am.
Why do I have to learn about Pavilion dv4 and dv7s? What about the Pavilion g6 or m6? Or the Spectre XT or EliteBook Folio 9470m? Seriously, what do these names mean? And it's not as if I can pull up any sort of comparison table worth the time it took to make it. There isn't one.
What's wrong with having one or two laptop lineups with simple names that denote what the laptop is for?
Look at Apple. We can look at every laptop they have made over the last five years and understand everything we need to know about it:
MacBook: This is like a Mac, but it's a MacBook, so it's a laptop that runs Apple's software. Got it.
MacBook Pro: The Pro must mean that this is like the MacBook, but it maybe has some higher specs for people who need the computer to do more. Makes sense.
MacBook Air: A skinnier MacBook. It's not just a MacBook, so it probably has some features that the regular MacBook doesn't have. But it's not a 'Pro', so it may not be the fastest of the options here. But if I like skinny gadgets, then this may be a better option.
That's it. No numbering scheme. No buzzwords. No Spectre EliteBook Folio Pavilion 9816Z. I look at the name, I choose whether I want a regular machine, a Pro machine, or a lightweight machine, and then I can choose whether I want bumped specs or just the default. The end.
Purchasing a Windows laptop is a lesson in patience. Look at any PC laptop maker and find an easier way to tell which laptop is for you.
Here's Dell. There's confusion straight from the main navigation. Home? Small and Home Office? Small and Medium Business? Large Enterprise? What if I run a small education business in my home office? Do I click on Education? Small Business? Small and Home Office? What if I plan to use the laptop to watch videos with my kid? Should I then choose a laptop featured under Home?
Seriously.
Then we have HP. Same problem. But at least I can find a 'Laptop' link, so I'll click that.
Another confusing (though slightly less so) group of pictures with groups of laptops. I wonder why there has to be so many lines of laptops, but decide I want an Ultra Portable one. And I get blown up with 5 different products: Pavilion dm1z, Pabilion dv4t, Envy 4t and Envy 6t, and the Folio 13 series. Two of the images are dead so I can't see what they look like, and they all talk about Free Upgrades and blah-blah-blah.
Or, I could look at this:
A Challenge
Please find me a PC maker who has a product naming and selection system that works better than Apple's. No, find me one that is even remotely close to Apple for the average person to find what they want.
Am I crazy to think that these PC makers should follow Apple's lead? That they should simplify their product lines so that people can understand them? Is that too much to ask?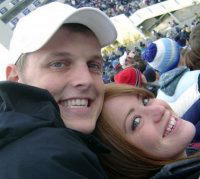 Caleb Hicks
Caleb is a teacher, entrepreneur, and tech enthusiast. He teaches kids (and his Mom) how to use computers for fun and profit. He loves to talk tech, gadgets, and Apple on Twitter (@calebhicks). Check out more posts by Caleb on his Author Page.