We're currently in the process of attempting to sell our home, which is pretty much the most torturous thing we've done in a long time. Part of the problem is that to get our home in selling condition it requires a little elbow grease, and we are some of the least handy people I know. Our DIY expertise pretty much focuses around painting a big blank wall or hanging a picture, and even those are difficult. Thank heavens there are multiple apps available to help make the home improvement process a little easier. Here are a few of my favorites:
Houzz Interior Design Ideas- Want to make an improvement but lacking inspiration? This app has over 200,000 high quality interior design images in their photo libraries, which you can then save and categorize. (iPhone, iPad, iPod Touch- Free!)
Benjamin Moore Color Capture- Color inspiration is all around, but it isn't always easy to remember it and coordinate it correctly. If you find yourself suddenly inspired, simply take a photo with the app and it will instantly create a palette from a selection of Benjamin Moore paints. You can then save the palette and add notes for future reference. (iPhone, iPad, iPod Touch, and Android- Free!)
iHandy Level- This free app makes hanging a picture a breeze. Rather than dragging a level out from the garage or basement, simply whip out your mobile device and you're ready to go. (iPhone, iPad, iPod Touch, and Android- Free!)
Handy Man DIY- Oh, sweet mercy. Simply input and store room measurements and the app will calculate exactly what you need for a project, whether it be paint, trim, flooring, etc. You'll never have to calculate measurements again. (iPhone, iPad, iPod Touch- $1.99)
Space Planning Tool- Funny how when you're in the showroom that couch looks just right, but when you get home it won't even fit through the door, isn't it? This app will help prevent these types of disasters. The app allows you to put in room dimensions, create floor plans, make shopping lists, and note preferences for colors/fabrics/finishes, etc. (iPhone, iPod Touch- $1.99 For iPad it comes under the name "Mark On Call".)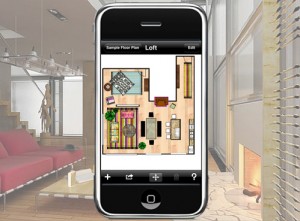 Home Depot- One of the worst parts of any DIY project is the countless trips to the home improvement store. This app will allow you to search inventory, research and purchase tools, and once you're in the store you can scan barcodes and gain access to hundreds of Home Depot how-to's. (iPhone, iPad, iPod Touch, and Android- Free!)
If you're a DIY pro, these apps will probably help you work wonders and save some time while doing so. If you're more like me, they will just help you keep your sanity and your home somewhat intact with minimal disasters.