AT&T's new Digital Life service will soon be sold in all AT&T stores across the country. The new service is a security and home-automation platform that will detect activity throughout the house and allow users to "take action" on PCs, tablets, or smartphones.
The new service will be run by an entirely new branch of AT&T, and will open and run 24/7 security monitoring centers. These centers are meant to receive calls about potential emergencies and relay information to emergency responders.
AT&T's homepage for the new Digital Life service gives a huge number of possible integrations with your home:
The service provides open APIs that device makers can tie into. So you can buy a new camera that will tie-in with AT&T's system and be activated whenever someone walks through your living room. Door locks, thermostats, light switches, and other electronic devices will also be compatible with the system.
Other innovations with the system include the new Got My Stuff car system, which will automatically scan your car (using RFID tags) for your important items before you leave the driveway. AT&T's representative cited the drivers license, cell phone, laptop, or credit card as possible devices that the car can check for and alert you that it is not in the car.
The new service is currently being demoed in a home in New Orleans, but AT&T has not yet revealed pricing and availability. We will keep you posted on any new developments.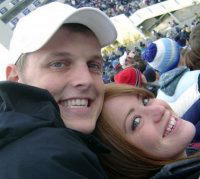 Caleb Hicks
Caleb is a teacher, entrepreneur, and tech enthusiast. He teaches kids (and his Mom) how to use computers for fun and profit. He loves to talk tech, gadgets, and Apple on Twitter (@calebhicks). Check out more posts by Caleb on his Author Page.