Something worrisome happens to the taste level of many people once their disposable income passes a certain threshold.
You have to love this. In an anthropolgical investigation photographer Luis Gispert, created a new NYC gallery show titled "Decepcion". The show features shots of fancy cars blinged out in aftermarket. Pictures include knock-off Louis Vuitton, Burberry, and Gucci interiors.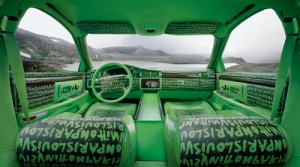 Embedded within the world of car enthusiasts customizing vehicle interiors with designer themes: a satellite world of designer imitations in service to those in need of color coordinated designer brand fabric and logos.

A micro-economy consisting of dresses, shoes, and bedrooms designed and customized to personal taste and aesthetics. Women running underground counterfeit designer dress shops out of their garages. Men outfitting anything from Timberland boots and backpacks with designer accents to custom leather apparel.

In a dizzying conflation of class, aspiration, and travesty, these anonymous creators appeared to relish the bastardization of cultural symbols of wealth.
Honestly, their taste was always suspect. They simply become capable of expressing it in a louder manner. Decepción is the Spanish word for disappointment or disillusionment. It also echoes the English word "deception." Both meanings are pertinent to Gispert's new photographs, as they ultimately reveal capitalistic fantasies that may never be attained.
All I can say is THANK HEAVENS!