Kickstarter is always a fun place to find cool projects. Even if they may not get funded, it is a great place to find cool ideas by interesting people.
The Day Maker is an alarm clock with one goal – make waking up a little bit more fun. I have been reading a lot lately about how removing the small annoyances in life, and replacing them with small joys, can really make a difference in your overall happiness. The Day Maker alarm clock is a manifestation of that.
At first glance, the Day Maker looks just like the hundreds of generic iPhone docks. Sure, it has a better design. But well-designed iPhone docs aren't something that we haven't seen before.
But watch what happens when it's wakie-time:

Yeah, the iPhone jumps up like a delicious Pop-Tart and starts playing your Wake-Up playlist. And if you want it to stop? You push it back down to hit the snooze and catch some extra Zzzzs.
Awesome.
The funding is a little behind schedule, but if you're interested in helping fund the cause, you can pledge $125 and get your choice of white, black, red or grey. Estimated delivery is February of 2013.
With a delivery date nearly a year out, I wonder what changes will be made to accommodate a potentially redesigned iPhone. No comments on that on the Kickstarter listing, and I was unable to get a response when I asked. But that may be something to investigate further if you love the idea.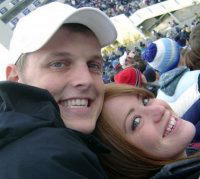 Caleb Hicks
Caleb is a teacher, entrepreneur, and tech enthusiast. He teaches kids (and his Mom) how to use computers for fun and profit. He loves to talk tech, gadgets, and Apple on Twitter (@calebhicks). Check out more posts by Caleb on his Author Page.