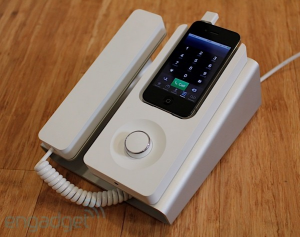 My parents recently got rid of their landline in favor of just using their cellphones. One less bill to pay – one less phone to answer. I completely support the idea. There is no sense in having a home phone, when most people never allow their cellphones to leave their hands or pockets.
However, for those who miss the idea of when a phone, was just a regular old phone – yet don't want to get rid of their iPhone – Kee Utility has created a retro-looking Desk Phone Dock for $150.
The design is sweet. It looks like a normal, landline phone (with a chord of course), yet it is also equipped with a dock for your iPhone. This dock comes with a USB cable that "connects the dock to your computer for syncing, a power cord that inserts into the wall, and of course, the phone dock itself." The packaging also includes a 3.5mm audio jack that is used to connect into your device.
The phone dock does more than charge your device, the speakerphone feature also doubles as a music speaker. When you answer the phone, your iPhone won't stop charging – which is a plus. The down side, is that when you pick up the chorded phone, you still have to answer the call via your iPhone. The same goes for when you hang up. When you put down the receiver, it automatically transfers the call to speaker phone. To end the call, you must end the call on the phone's touch screen.
Would you ever consider getting one?
Source/Image Source: engadget.com