Yesterday morning, Mark Zuckerberg announced that Facebook had surpassed the 1 billion active users mark – quite the impressive milestone, considering they've only been around for eight years.
They also produced this video, titled "The Things That Connect Us", to celebrate. There are mixed reactions all over the web. Some love it, some hate it. So, I'm curious what you think.
For reference, here's Facebook's growth chart over the last few years. It's interesting to note – it took them 6 years to reach 500 million, but they doubled that to 1 billion in the next 2 years.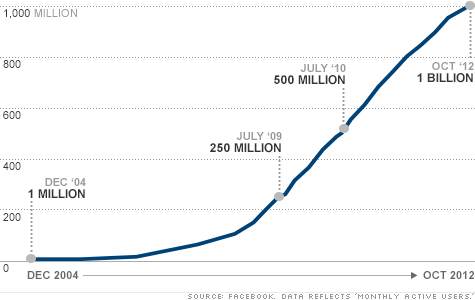 How long do you think Facebook will continue its dominance in the market? Do they have anything to worry about from other competing social networks?
—–
You should follow Mike on Twitter for more great tech insights and good conversation. If Twitter isn't your thing, fear not, you can always keep up with Mike on his personal blog as well at: www.MikeBeauchamp.me or on Facebook.