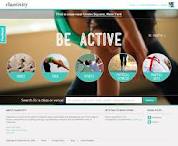 Summer is in full swing and if you haven't gotten out and done something active, its time! Maybe your thing isn't pounding the hot pavement or swimming laps at your local pool. Maybe you're more into group motivation. Maybe you appreciate a more social exercise experience. Maybe, you're more into fitness classes.
But finding fitness classes is overwhelming, isn't it? Or any kind of class for that matter? Where are they? Which ones are good? How much do they cost? What's even out there? And the list goes on and on.
Well, we're all in luck. New website Classtivity is here to help. Picture Classtivity as a Yelp of sorts but for all things fitness class from locations to consumer reviews and class details to prices. Simply join Classtivity and type in what class you'd be interested in taking. Yoga? Salsa dancing? Pilates maybe?
After you let Classtivity in on what your fitness class wish may be, the website does all the work. Easily surf through the interface to see how far away different classes are, how much they cost, what others are saying and even select different options to compare classes directly. The best part of Classtivity? Once you find the perfect class for you, book your adventure right from the website.
Classtivity also offers classes in hobbies besides fitness such as cooking, art and video making. The catch? Right now Classtivity only helps you find a class in New York City with a rollout to more cities due this summer. So sign up and get ready for Classtivity to help you get creative, active and social in your city.