Apple has received a lot of good press as of late for a myriad of reasons: record setting profits, a steady stream of popular gadgets, the highest stock price in the world, and a general dominance of the markets they've chosen to participate in. So it is hard to say that Apple is underrated or overlooked on anything. But when it comes to accessibility for consumer electronics, Apple may not be getting enough credit.
I went to a conference in July 2011 where a group of people were working on strategy, design, and coding for an iOS library app. One of the men that was there was blind. He was there helping the team stay on target in providing great tools for others like him. Ignorant at the time, I thought to myself "How would someone who is blind use a phone with a touchscreen as the primary input?" I learned first-hand, because later that day I saw him use his iPhone to make and answer phone calls, take a note, and schedule an appointment. And this was before Siri was around. With the addition of Siri, the iPhone 4S has gone even further for improving accessibility for the blind.
I was reminded of this experience when I saw this video that has been making the rounds the past couple of weeks:
Austin Seraphin adds an amazing account of how the iPhone allowed him to "see color" for the first time on his personal blog. The iPhone is changing lives for those who have otherwise felt left behind in the digital revolution, particularly when it comes to touchscreen smartphones.
The iPhone receives near universal praise for it's accessibility options, while others are playing catchup. While Apple is not the only company with a focus on accessibility, other solutions are often built by third-parties or cost a small fortune. It is something that more software developers and hardware manufacturers need to pay attention to.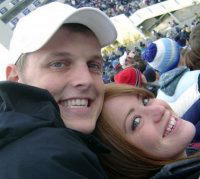 Caleb Hicks
Caleb is a teacher, entrepreneur, and tech enthusiast. He teaches kids (and his Mom) how to use computers for fun and profit. He loves to talk tech, gadgets, and Apple on Twitter (@calebhicks). Check out more posts by Caleb on his Author Page.