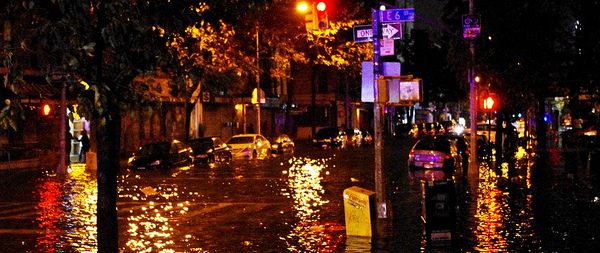 I was in New York City all last week while Hurricane Sandy pummeled the Eastern seaboard with damaging winds, rain and heavy flooding. Power was out for everything south of 39th Street in Manhattan, where I was staying. I moved hotels (further uptown) and was back to having power again.
Once it was safe to go outside, I, like thousands of New Yorkers, went out to assess the damage. Most of it was just far enough away that I had no reasonable way to get close. I've volunteered with the American Red Cross in natural disasters before (the Joplin tornados), and set out on foot to see where I could lend a hand.
Before I continue, let me pause to say this: It's true, I'm a paid writer for ZAGG. It's also true that I love the products and have used many of them personally long before I started writing for this blog.
Phone service in Manhattan was spotty that Tuesday morning, but worked enough that I could access the Maps and GPS on my phone most of the time. Naturally, I took a ton of photos as I went. I had the ZAGGsparq 6000 in my back pocket, so I knew I'd have plenty of power to make it through the day, regardless of where I ended up or when I made it back to the hotel.
Or so I thought…
Hundreds of thousands of people were without power in lower Manhattan. That's hundreds of thousands of phones that people needed to charge. They needed to get in touch with their family, friends and neighbors to let them know they were okay, and disaster relief agencies when they needed help. Think of all the things we rely on our mobile devices for these days. Then think of being without all of that in a time of need because of a dead battery.
I found a coal oven pizza place open—even with no electricity—serving up food, and decided I'd grab a slice and take a break from walking. The guy at the table behind me saw I had my phone plugged into the ZAGGsparq and asked if I'd let him charge his phone just for a few minutes, enough to call his brother. Of course I let him. When he was done, another man had taken notice and asked if he could use my charger  as well. Then another lady. Then two more men. All the while, I'm starting to realize what was becoming obvious: everyone needs one of these in a very real way, right here, right now.
After about 45 minutes at the pizza place, I got up and left. The battery on my phone was starting to run low (I never really got to charge it like I'd intended when I sat down), so I plugged it in and kept walking. I'd stopped to take a photo of some fallen tree limbs near Washington Square Park and a man walking by asked if he could use my phone to try and reach his friend because his iPhone was dead. Once again, I obliged, and he decided to wait there for his friend to show up. Not being in a hurry to get anywhere, I waited around and let him charge his phone like the others before.
This happened a couple more times before the ZAGGsparq was finally depleted and I put it back in my jacket.
I didn't count how many complete strangers the ZAGGsparq helped that day, but it was more than a dozen. Some just long enough to make a phone call or two; others for 15 minutes or more. It was humbling to me, a tourist from the Midwest, completely out of my element, to be able to help a small handful of people in a small way, but it also made me realize how important that ZAGGsparq was when it really mattered.
I write all of this not to try and sell you anything—buy a ZAGGsparq or don't—but to share a story about how a simple product so many people never really gave much thought to made all the difference in the world when they needed it the most.
RELATED POST
Humbling True Story: ZAGGsparq Helps Save A Life
—–
You should follow Mike on Twitter for more great tech insights and good conversation. If Twitter isn't your thing, fear not, you can always keep up with Mike on his personal blog as well at: www.MikeBeauchamp.me or on Facebook.