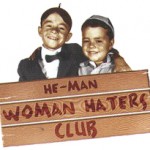 Remember that movie Little Rascals and the He-Man Woman-Haters Club? Well Pinterest seems like that, only the opposite. It's like the social network for girls and I'm not sure how I feel about that. If you have never heard of Pinterest before, they describe themselves as a virtual pinbaord. According to them, "Our goal is to connect everyone in the world through the 'things' they find interesting. We think that a favorite book, toy, or recipe can reveal a common link between two people. With millions of new pins added every week, Pinterest is connecting people all over the world based on shared tastes and interests."
One quick look at the Pinterest home page and you'll find it populated with girly things like this –>
My wife has been really in to this Pinterest thing lately. She spends more time on it than Facebook. Gasp! She keeps telling me how fun it is and that I should try it out. And I'll be honest, it does seem like fun. She was showing me the Travel/Places category and we found a picture of an awesome underwater hotel in Fiji. For someone who loves to travel as much as I do, I've found a bunch of new places thanks to Pinterest. So maybe it could be fun for us guys. I've decided to make a guide on how to create a Pinterest profile and maintain your manliness at the same time.
How to Create a Manly Pinterest Page
1. Tech. I put this one at number one, obviously because this is a tech blog and you wouldn't be reading it if you didn't love gadgets and whatnot. So make that your first priority – post a bunch of pictures of some awesome gadgets and accessories.
2. Cars. What guy doesn't love, or at least appreciate, some nice wheels. Post a bunch of pics of some fancy cars, your dream car, that new car from Mission Impossible…you get the idea.
3. Sports. Add pics of your favorite athletes, favorite teams, amazing sports moments…
4. Babes…actually, probably not a good idea considering this network is made up of 99% females right now. Especially not a good idea for the non-single folk like myself.
5. Movies, Music, Books. Instead of making a list of must-see movies or books you've been meaning to read, create a visual list by posting photos of them on your pinboard.
I could go on, but I think you get the picture. The point is, Pinterest doesn't just have to be for girls to post pictures of cupcakes and to plan their dream wedding. Guys can use it, too. Don't be afraid. But for the record…I haven't joined quite yet. You go first.