iOS 5 added a new app to the mobile OS called iMessage. As part of this release iPod Touch and iPad users are now able to send unlimited text messages to other iMessage users. At first I didn't think that this service was going to make that big of an impact in my life but I have now realized it is the simple things that can make a difference.
1. Sending all media types. With iMessage you can now send texts, photos, videos, and contacts. This comes very handy when you are using the app and you want to take a picture and send it right away. It is also nice to be able to send contact information, this would eliminate you having to send multiple texts just to give someone your address phone number and email.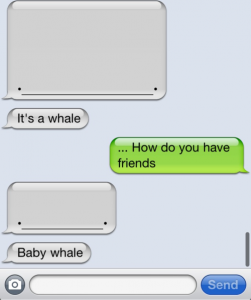 2. Not only for iPhone users. Because I do not have an iPhone if I had received the viral text show on the right I would have not understood what was going on. Now that I have iMessage on my iPad I can receive this text and have it display properly. Many iPod Touch users usually find a free texting app so that they can use the iPod as a smartphone. iMessage will eliminate the need these testing apps and give iPod Touch users a much better threaded messaging experience. I also have a view contacts that would much rather text me on the iPod then figure out how to use T9 texting on their flip phone. If you have an iPad and iPhone iMessage gives you a seamless texting experience on both devices so you don't have to set down your iPad just to pick up your iPhone to send a quick text.
3. Group messaging and smarts. When you are adding a recipient to an iMessage you have the option to add multiple contacts to have a group conversation. This makes it easy to plan an event without having to send a textto five different people. Also when you add a contact to a message it will tell you if the contact is a iMessage user or not. This makes it nice to know that you are not just sending a message out when there is no way that they will receive it.
My last new favorite feature of iMessage is that it shows you if the user on the other end is entering a message. When sending a normal text message on any other device you get no acknowledgment if they have received a message or are replying. I love this feature because I only have to wait a second after I send a message to see if they are going to reply quickly but if the notification does not show up I know I can get on with my life and then return to the conversation later.
Despite iMessage's ability to not send true text messages with the iPod Touch and iPad to phones numbers, I think that iMessage will give many users a great experience. Coupled with it and the new notifications I have been very happy with the new iOS features. Hopefully it has been the same for you.