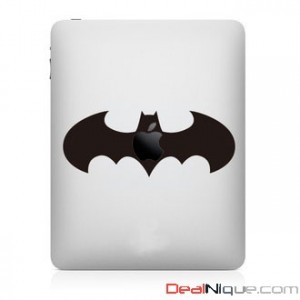 When I was little, oh, five or six or so, I was obsessed with Batman. One day in the heart of the Halloween season, I found a genuine rubber Batman mask (circa Michael Keaton) at Toys R Us for a whopping $50. That amount might as well have been thousands at that age, but nevertheless, with scrimping and saving, I finally earned enough money to obtain this awesome mask.
What does this have to do with the iPad 2? Well, let me tell you. I got a lot of good natured flak from members of my family for spending so much money on something that I really wanted but probably would never really use. To this day, the phrase "it's a Batman mask" is in the lexicon of my family to refer to anything that is 1. expensive 2. not worth the money.
I recently decided it was time for me to pick up an iPad 2. For months I had been pondering whether I should get a tablet. I'd even written an article about my conundrum and analyzed my life to see if its usage could really be justified. I mean, it seemed great but I of course did not want a "Batman mask" on my hands. In the end I decided I had the money and I may not be able to justify the "need" of it, but it would be more of a hobby or toy to continue my nerdiness. Whether it was a Batman mask was yet to be determined.
I've had the iPad 2 for about 2 and a 1/2 weeks and honestly it has been a bit of a roller coaster ride. I have an iPhone 4 as well as a MacBook Pro so at first I felt pretty glutenous. 'Which device to use' was my constant question and I felt that the iPad 2 had disrupted my routine. Once I got over my usual 'buyers remorse' however, I found niches that the iPad filled that I really didn't realize had been there. It has been great to be able to do deeper, more purposeful reading that is hard to do on a smart phone or laptop. I've enjoyed how surprisingly effective it can be in terms of email and Facebook sifting and find I am more productive in terms of more intense working on it than I would have imagined. Its slick profile is great for meetings where before a laptop was a sore thumb and cumbersome. I've found it is a great family device as well as my wife enjoys editing photos and casual browsing while my 19 month old daughter loves the songs and games that can be played on it.
Final verdict? Honestly, I'm still trying to decide. It is an interesting gadget as its usefulness has grown on me over the weeks as if it is putty filling in my nerdy gaps. Sure it was expensive and I probably don't need it, but I'm definitely using it a lot more than I am using the Batman mask that is still stored at my parents house.