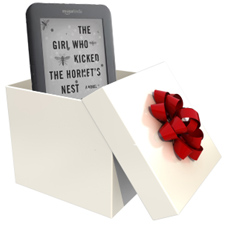 The Amazon Kindle was one of the most requested gifts of the 2011 holiday season. Not only was the Kindle popular in the United States, it was also sought after internationally. The Kindle was at the top of sales charts in the United Kingdom,  but is now topping an entirely different list in the UK – It is one of the Brits' most unused Christmas gifts.
MyVoucherCodes.uk claims that 48% of the Christmas gifts received by Brits for Christmas 2011 have yet to be used. 22% of Kindle recipients have not yet switched on their new e-readers, with 53% responding that the reason is because they haven't downloaded any books yet.
The Kindle is not the only hot tech device that has been collecting dust over the last month. The Apple iPad was also mentioned on the list of unused devices.  Nine percent of survey respondents claim that they have not used their iPads because they haven't "gotten around to it" or because it "isn't fully charged." Fourteen percent of those who received various MP3 players have also not used them yet.
Mark Pearson, the CEO of the MyVoucherCodes websites stated in response:
It is surprising to see how many people have not used gifts they received almost one month ago; but I think we are all guilty of putting gifts to one side now and again. It is likely that these gifts will be used eventually, perhaps when the owners get a chance to download books or music, but I must admit it's difficult to find a reason for people having not charged iPads!"
Did you received electronic gifts for Christmas that you haven't used yet?