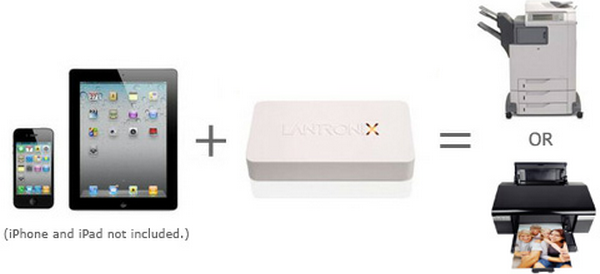 At home, you can choose which printer you use. You can buy a printer that is capable of Air Print in case you have iOS devices. At the office, it's not so easy.
Enter XPrintServer
The basic idea is that you can connect the server to printers, and then print directly from the native menu of the device to any network-connected printers.
"The reception of the xPrintServer in business environments has been overwhelmingly positive and has become a strong solution franchise for Lantronix. We are thrilled to build on the previous xPrintServer generation and offer more capabilities to make the xPrintServer – Office Edition even more valuable to our customers,"-"Apple has made tremendous in-roads for driving the adoption of iPads and most iOS devices into enterprise environments, and business-critical iOS accessories such as the xPrintServer – Office Edition will not only benefit from this market penetration, but should also serve to speed that adoption into enterprises."
USB and Ethernet Printers
The device is capable of supporting 4000 top brand printers, and now has a long list of features.
Printer-User Management
Usage Rights
Security and Control
User Groups
Proxy Server Support
Save and Restore Functionality
Export Print Logs
Active Directory Support
Talk to your IT guy at your office if you've ever run into a situation where you needed to print something, and the hassle of getting it from your iPhone or iPad to your computer was worth the cost of this little server.

Joshua Howland
Joshua is a mobile application developer, entrepreneur, and technology enthusiast. He is currently building a company that focuses on educational mobile applications: LearnStack. His favorite posts to write compare companies and products. He loves sports and start ups and talks about them (along with tech) on Twitter (@jkhowland) and his blog (jkhowland.me).