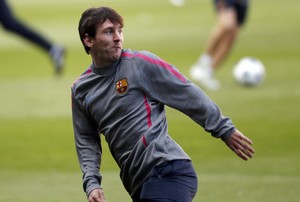 For those who don't know who Leo Messi is, he is a famous Argentine soccer player. Messi plays for FC Barcelona and the Argentina national team as a forward. In 2008, he won an Olympic gold medal in Bejing with the Argentina Olympic football team, yet his list of other awards and accomplishments goes on and on. That being said, many believe that he is the best soccer player in the world right now.
A few days ago, Messi decided to join Facebook. After only seven hours of joining the social media site, his page has around 7 million "Likes." To break it down for you, think about President Obama's Facebook Page. The President only has 40% as many "Likes" as Messi and Justin Bieber only has 30% as many. And while the number of "Likes" have accumulated over years for Bieber and Obama, Messi's astounding number was reached in a matter of hours.
Messi's Facebook page read this (translated):
"Hola! Welcome to everyone. Thank you very much for the great number of messages that I have received. I am so excited! From now on we will be more closely connected … through Facebook."
Apparently his fans are excited to see their favorite soccer player entering the realm of social media. Whether or not Messi has set a Facebook record has yet to be determined.
There has been some speculation that Messi might have automatically transferred fans from his unofficial pages to his new, offical page. If that were the case, than the rate of growth isn't a record-breaking number.
Either way, I'm pretty impressed that Messi has such a strong fan base. Are you a fan of Messi on facebook?
Source: mashable.com
Image: Reuters