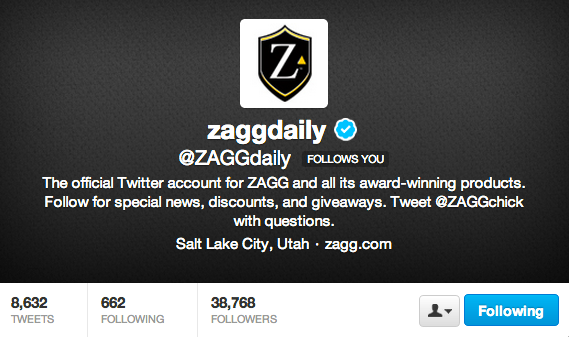 This week, I'm taking over our @ZAGGDaily Twitter account. We thought it'd be a fun change of pace. So, we'll talk shop — all about the latest news and happenings in the tech world as usual — and I've created a new contest to give away some cool ZAGG gear each day. Way cool, right?
Here's what I'm giving away this week -
Monday (July 29) – 3 invisibleSHIELD Screen Protectors
If you win, we'll send you any invisibleSHIELD (Original, Smudge Proof, HD, or Extreme) for your tablet or smartphone.
Tuesday (July 30) – 3 ZAGGkeys Keyboards for iPad or Android Tablets
If you win, we'll send you the ZAGGkeys PROplus or ZAGGkeys PROfolio of your choice.
Wednesday (July 31) – 3 ZAGGsparqs
If you win, we'll send you a ZAGGsparq portable battery charger. You pick the size.
Thursday (August 1) – 3 Pairs of ZAGG ZR-SIX Earbuds
If you win, we'll send you a pair of the brand new ZR-SIX earbuds. You'll love 'em, guaranteed.
Friday (August 2) – Winner's Choice (3 winners)
If you win on Friday, you get to pick your prize! (One item per person)
So, let's talk brass tax. How do you enter? Each day, I'll tweet three reminders on the @ZAGGDaily Twitter account and give you a simple question to answer. To enter, just reply to the tweet with your answer and include the hashtag #needZAGG. You MUST include the hashtag to be qualified and you MUST be following the @ZAGGDaily account. That's it! I'll draw three winners randomly each day and send a DM to confirm (that's why it's important you're following us).
If you have any questions, tweet them or leave them in the comments below.
—–
You should follow Mike on Twitter for more great tech insights and good conversation. Be sure to say hello! You can also keep up with Mike on his personal blog: MikeBeauchamp.me, on Facebook, or on Google+.