At CTIA the Droid Guy made a stop at a small booth that offered a great product. He found a product that many would have found very useful over the last few years. The little gadget is called the Thing Sling.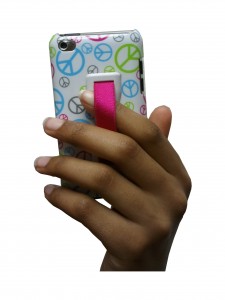 The Thing Sling is a little piece of plastic with a small elastic attached. Users then attach it to the back surface of a device (whether it has a case or not). The elastic is there for you to simply slip your fingers in so that you can get a better grip on your phone.
This would help make it easier to add text to your phone with one hand without worrying about the phone sliding out of your hand while you reach across the screen. I think those with bigger phones would find this especially helpful so that you can work at full pace without have to be cautious of the phone slipping to the ground.
The Thing Sling comes in many different colors and currently is $13. They offer a no hassle guarantee if  you end up not loving the product, all you need to do is send it back for a full refund. If you drop your phone the next week and crack your screen I wouldn't go around blaming anyone for it though.
Source: The Droid Guy