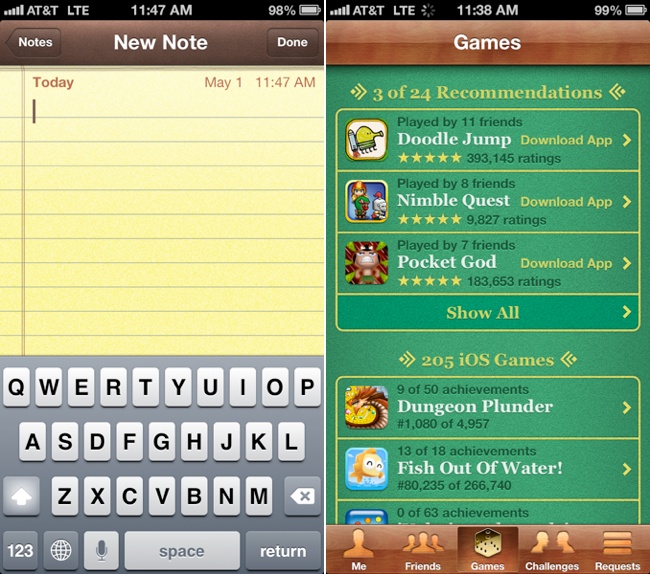 The latest version of Apple's mobile operating system, iOS 7, will be released later this year, and with reports this week indicating that Apple is diverting its internal resources to speed up delivery of the new platform, new rumors suggest that one of the big changes in the latest version will include some redesigned user interface elements.
According to MacRumors, the biggest changes could come specifically with elements of certain Apple apps that were favored by former Apple VP Scott Forstall, particularly, the leather-style design of the calendar app, and the felt-table look of Apple's Game Center. New interfaces in iOS 7 are rumored to be "flatter" with simplicity being more of a focus throughout the software.
Any changes to the user interface could very well be welcomed by users who have been with iOS devices since the iPhone debuted in 2007. While iOS has seen plenty of new software functionality introduced over the past six years, the basic look and feel of the user experience has remained mostly static, with little changing, especially when compared to the look-and-feel changes that have been introduced to Android's operating systems over the years.
Further speculation about what may or may not be included in iOS 7, as well as a look at the general state of Apple's software development now under the eye of Jonathan Ive, is spelled out in a lengthy report from Bloomberg released Wednesday. The report details the development delay in iOS 7, but speculates deeper into the current culture of development at the post-Steve Jobs company. There is some suggestion that while Ive is regarded as a design genius, product development may be struggling without a strong personality like Jobs to push back on Ive's ideas. The report continues into speculation about the inclusion of gesture controls, and other interface redesign elements in future releases of Apple software.