If you've ever tried to sell any of your gadgets on Craigslist, you've at least heard of, or even been contacted by someone claiming to be interested in whatever you're selling who asks you to ship it to Nigeria. They offer to pay you more than your selling price, sometimes by a few hundred dollars, just to cover the cost of shipping, and they'll ask for your PayPal email address to  send you the money. The problem is, there's never any money. If you fall for this type of scam, you're sending your gadget across the ocean, never to be seen again, and you have absolutely no recourse.
I'm currently selling my iPhone 5 on Craigslist, and I've been contacted by 3 of these Nigerian scammers in the last couple days. Their text messages all start the same: "Hi, I'm interested in your [title of Craigslist ad]." They copy and paste the title of the ad, so that should be your first hint. Real people don't do that. When you reply, they proceed to tell you about how they'd love to come and see your phone and buy it in person, but they're out of town on business, so they won't be able to. Instead, they'd like to have you ship it to them and they'll offer $100 more for the shipping cost and the inconvenience. All they need is your PayPal email address.
Here's where the scam begins.
Giving your PayPal email address out to anyone is safe. Unless you have a weak password, your actual PayPal account won't be compromised. The Nigerian scammers aren't going to try and hack your PayPal account; instead, they'll send you an email that looks like it came from PayPal, alerting you that you have a pending funds transfer and in order for the funds to be released to your account, you have to provide a tracking number for the gadget you sent to Nigeria.
So what really happens? You send your device to an address in Nigeria, they receive it and resell it for hundreds of dollars on the black market. You'll never get any money for it, since the PayPal email you received wasn't actually from PayPal. When you login to your account, you'll see there is no "pending funds" and you don't have any more money in your account than when you started. PayPal won't reimburse you or cover the cost because you didn't actually conduct any business through their site. You're SOL.
So, back to my story. I was feeling particularly curious this morning when one such Nigerian sent me a text exactly like the one I described above. I told him I knew it was a scam and he wasn't getting my phone, but I wanted to get into the business with him and help him get more phones. It took a few tries, but I finally got him to believe me. Check out the entire conversation below.
At this point, I'd gotten his name (funny how it changed from Sarah to Ayotunde), physical address and email address. I put my highly experienced Googling skills to work to find anything I could. He's used the same email address for at least a year, as I found this discussion about him from May 2012, but with a different phone number.
His actual address can't be found on Google Maps or Google Earth, likely because Google only lists businesses in Nigeria, not residential addresses. After doing some exploring on Google Earth, I found the approximate area. This video gives you an idea what it looks like in Isolo, Lagos, Nigeria, where my new Nigerian friend lives.
I was ready to see the rest of his operation at work, but I needed to get him somebody with a phone for sale. I wasn't going to actually turn him loose on anyone, so I got got my friend JohnRoss to play along. The Nigerian coached me on what to tell him and told me more about the PayPal process. Here's the next part of the conversation.
Sure enough, he sent an email that looks like it came from PayPal to the address I'd given him. Here's what it looked like, as well as a few of my notes of what to look for in these emails. If you do get yourself this far in dealing with one of these people, at LEAST look for the things I've highlighted here. In fact, it's not a bad idea to look for these things with all emails you send and receive dealing with secure, financial transactions. While this post focuses on one of the most common Craigslist scam, there are hundreds of different ones out there.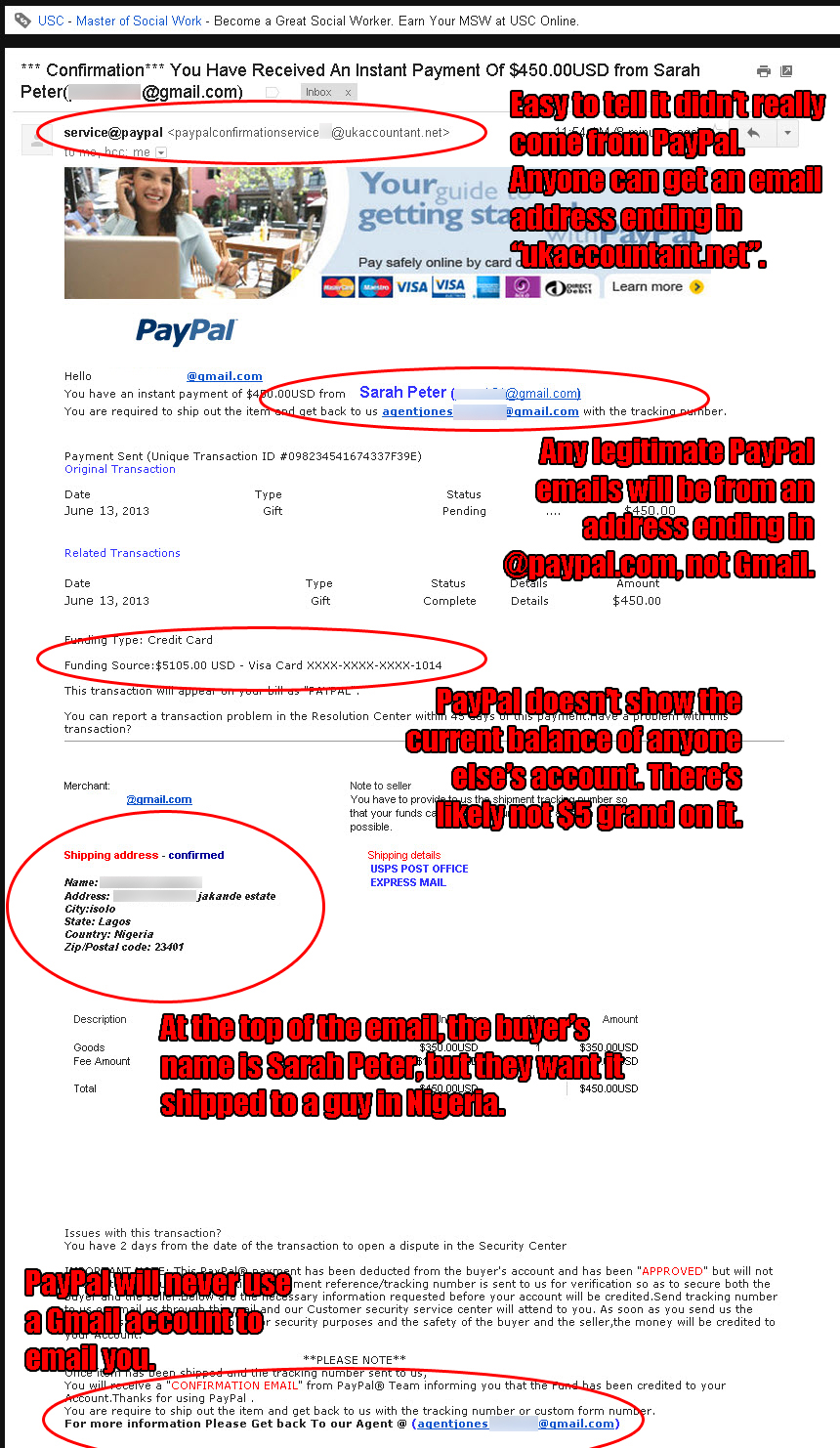 If you know what you're looking for, there are some major red flags in this email. Like I said earlier in this post, even if you get this email, when you login to your PayPal account, there won't be anything there. There won't be any notification of "pending funds" and there certainly won't be any money.
Alright, so back to my conversation with the Nigerian. The next part is about our arrangement for me being "in business" with him.
So, after completing hundreds of transactions online and quite a few on Craigslist, here is my complete list of recommendations and things to watch out for:
1. If the person sends you a text to initiate the conversation, they'll probably ask if you still have whatever it is you're selling still available. If they've copied and pasted the title of your listing right into the text, that's probably reason enough to bail.
2. If they ask you to ship your item, that should be game over. Do not pass Go, do not collect $200.
3. If you're selling something on Amazon or eBay where you actually DO have to ship it, never ship overseas. If you feel you absolutely must, make sure the funds clear your bank account first and then wait 3-5 days to make sure it isn't cancelled and withdrawn by  your bank. NEVER send anything prior to receiving and verifying 100% of your money.
4. While it's unrelated to this particular scam, always meet people in a well-lit, well-populated public place when dealing with buyers in person. Don't invite them to your house and don't agree to go to theirs. There may be exceptions to this for big items — things like TVs and furniture — and in those cases, always have someone else with you. This especially applies to all your ladies out there.
5. Never take checks, debit cards or credit cards. They may look legitimate, and sometimes they very well may be. But I can tell you from firsthand experience it's a bad deal when they're not. Deal with cash only.
6. If you get to where you're meeting the person and you feel something just isn't right, walk away. Or rather, get back in your car and drive away. If you have that bad feeling but decide to continue anyway, write down the person's license plate number and the make/model of their car, just to be safe. But then again, if you feel something isn't right so much that you have to do that, it's probably best to just walk away.
And whatever you do, don't get too friendly with them like I did, or they'll be sending you new business ideas because you're all buddy buddy now and you can be their man on the ground in the U.S. He's going to be so upset when I break the news to him later that I did all this in the interest of investigative journalism and there is, in fact, no phone coming his way. Oh well. Ask me if I feel bad.
Yes, Nigerian guy who's now told me all about how he scams people, I totally trust you.
—–
You should follow Mike on Twitter for more great tech insights and good conversation. Be sure to say hello! You can also keep up with Mike on his personal blog: MikeBeauchamp.me, on Facebook, or on Google+.