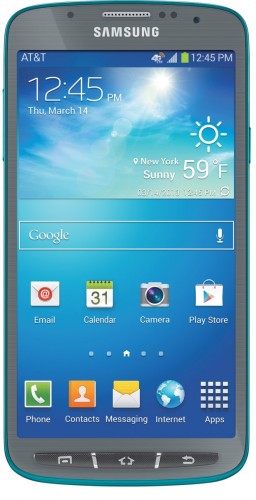 Last month, I told you about a version of the Samsung Galaxy S4 that was only going to be available in Europe: the Galaxy S4 Active. As it turns out, it's also coming to the U.S. by way of AT&T and it'll be available later this month on June 21st for $199 with a new two-year contract. One downside, at least in my book, is that the black/red color option won't be available here. AT&T will be offering two colors: Urban Gray or Dive Blue.
What's so special about the Galaxy S4 Active? It's water-resistant and dustproof. So, if you've dropped your texting machine in the toilet, the swimming pool, or a puddle of water, you'll appreciate not having to file that insurance claim and get an entirely new device. It's aimed at people who spend a lot of time outdoors and may be more prone to accidentally damaging their device.
On the inside, it's mostly the same as the Galaxy S4 we're already familiar with. The S4 Active sports a quad-core processor and a 5-inch display, but swaps the 13 megapixel camera for an 8 megapixel shooter instead.
AT&T has a landing page for the S4 Active, where you can sign up to be notified when it's available in-stores, or you can pre-order your own starting June 14th.
—–
You should follow Mike on Twitter for more great tech insights and good conversation. Be sure to say hello! You can also keep up with Mike on his personal blog: MikeBeauchamp.me, on Facebook, or on Google+.