$10 billion is the latest valuation floating around for Snapchat, the wildly popular instant messaging app for iOS and Android. That's an unfathomable amount of money. Here are 20 things you could buy with $10 billion, instead of Snapchat, to help put that figure in perspective. Keep in mind: Snapchat is a less than three years old and has yet to make a single dime in revenue.
1. The New York Times
Value: $1.9 billion
At 163 years old, The New York Times is one of the oldest newspapers in America still in print. It's also one of the most widely respected names in the business. It's value as a publicly traded company after all that time is but 1/5 that of Snapchat, which is less than three years old.
2. Boston Red Sox
Value:  $1.5 billion
Ranking at number three behind the LA Dodgers and NY Yankees, the Red Sox is the third-most valuable MLB team in the U.S. They've been around since 1901 (originally as the Boston Americans) and after 113 years, could be purchased 6.6 times over for the valuation of Snapchat.
3. Most Expensive Home Sold in America
Value: $147 million
In May of this year, a hedge fund manager bought the most expensive home sold in America to date, costing a whopping $147 million. It's located in East Hampton, and sits on 18 acres of prime beachfront real estate.
4. Most Expensive Private Jet in the World
Value: $300+ million
Saudi Prince Alawaleed bin Talal owns the most expensive private jet in the world, the Airbus A380-800. It has room for 525 passengers, can fly as high as 43,000 feet, and can travel nearly 10,000 miles on one tank of fuel.
(If you're keeping track, we've bought the biggest name in news, one of the biggest sports teams, the most expensive home in America, and the biggest and most expensive private plane in the world — and we haven't even spent $4 of the $10 billion).
5. Largest and Most Expensive Yacht in the World
Value: $800 million
Owned by a Russian billionaire, the Eclipse is 526 feet long, requires a working crew of 70, has 24 private guest rooms, two helipads, and a small submarine.  It has its own defense system, which can detect intruders and an anti-paparazzi laser built to disable prying cameras.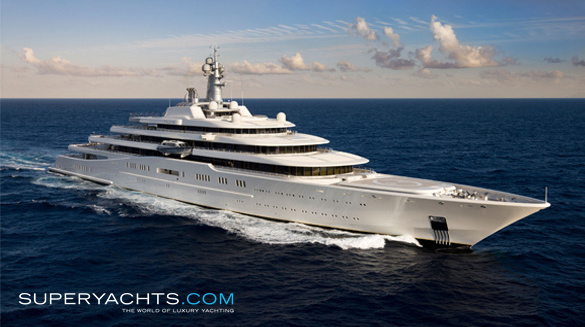 6. and 7. Hard Rock and Planet Hollywood Las Vegas Casinos
Value: $1.63 billion
With $10 billion, you can't spend all your money on toys. Part of it needs to be invested so you don't eventually run out! Let's go ahead and scoop up two big names on the Las Vegas Strip: Hard Rock ($770 million) and Planet Hollywood ($860 million) to make sure we keep the cash rolling in.
8. Rarest and Most Expensive Car Ever Sold
Value: $53 million
The last 1963 Ferrari 250 GTO sold brought a staggering $53 million. The only problem with buying one of these right now: none are currently for sale.
9. New York City Penthouse
Value: $90 million
The home we bought in the Hamptons is nice and all, but when we want to party in the Big Apple, we need some proper digs. The penthouse at One58 tower should do nicely, which comes in at 14,000 square feet on the 75th and 76th floor of the building, and has 140 feet of outdoor terrace looking out over Central Park. Nice.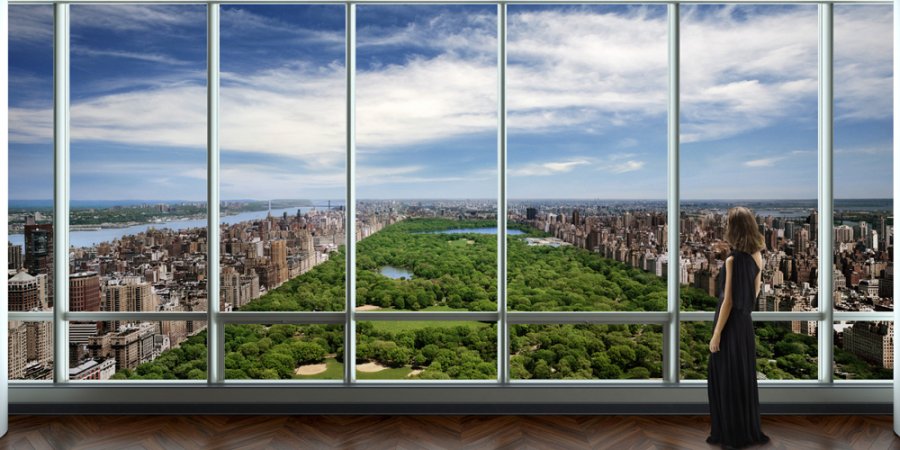 10. Personal Space Ship
Value: $900 million
SpaceX estimates the cost of a fully operational rocket (Flacon 9) and space craft suitable for human life (Dragon 2) at $900 million. This is a reusable space craft, so you can take a trip up through the atmosphere into low orbit to impress even the richest of your new friends.
11. Private Island in Thailand
Value: $160 million
When you need a break from the hustle and bustle of the NYC life, charter that Airbus we already bought and fly to your 110 acre private island near Phuket, Thailand. It comes complete with fresh water, a massive power generator, white sandy beaches all around, and even cell phone service.
(We've bought 11 incredibly exclusive and unique things so far, including a few which generate even more income, and still have $2.5 billion left to spend!)
12. Philanthropy
Value: $500 million
It wouldn't be right to keep and spend all of this money on ourselves, so let's create a foundation to put some of our fortune to good use. Pick a cause, any cause, and we'll allocate half a billion dollars towards creating good change in the world. It could be building public tech centers (not libraries), feeding the homeless, fighting disease, or anything else. This amounts to 5% of our initial cash.
13. 14. and 15. Rare Paintings
Value: $278 million
With our new amassed wealth, we've developed an exquisite taste in art (naturally). And with three new homes to furnish, we need to pick up one exclusive piece for each. We'll grab a van Gogh (Irises, $112 million), a Monet (Le Bassin aux Nymphéas, $87 million), and a Da Vinci (Salvator Mundi, $79 million). That should do nicely.
16. ZAGG
Value: $154 million
We're a publicly traded company, and we make awesome products. Why wouldn't you want to buy us?
17. One Lamborghini For Every Day of the Year
Value: $146 million
Between the various houses and businesses you now own, you're going to need more than just that beater Honda Accord you've been driving for the last decade. The Lamborghini Aventador seems like a solid choice. At $400,000 each, you could drive a different one each day of the year. The one thing we're not even going to take a stab at figuring: the cost of gas.
18. Spoil Your Spouse
Value: $46 million
The most expensive single piece of jewelry in the world: The Graff Pink.  It's classified as a type II color diamond with a perfect rating. There's nothing else like it in the world, and as a new billionaire, your lady friend deserves the best. Plus, you've still got $1.3 billion left to spend anyway.
19. Cayman Islands
Value: $1.01 billion
Sure, you've already got a private island in Thailand, but when you don't want to get so far from home, why not buy an entire country? The GDP of the Cayman Islands hovers around $1 billion, so you could make an offer to buy the entire country from England.
20. 13% Share of Tesla
Value: $395 million
You're a futurist, looking forward to new technologies that will change our world for the better, and you believe in the genius of Elon Musk. As such, you spend the rest of your fortune becoming the second largest individual shareholder in the company behind the founder himself.
Now step back for a moment and look at everything you've acquired with your $10 billion. You could have Snapchat, OR:
The biggest newspaper in America
The third-most valuable baseball team in America
The most expensive home in America and an elite New York penthouse
The largest and most expensive yacht in the world
The largest private jet in the world
Your very own spaceship, complete with crew
Two entire casinos on the Las Vegas strip
A private island in Thailand
An entire country in the Caribbean
366 cars, one of which is the rarest and most expensive in the world
Five profitable businesses to continue growing your income (and a large interest in a sixth)
A charitable foundation with a half billion dollar endowment to improve the world
Let that sink. A cell phone app that wasn't around three years ago and generates no revenue whatsoever is worth more than everything on this list. Let it further sink in that there are a handful of big name companies out there willing to pay that figure to acquire it. Staggering.
—–
You should follow Mike on Twitter for more great tech insights and good conversation. Be sure to say hello! You can also keep up with Mike on Facebook, or on Google+.