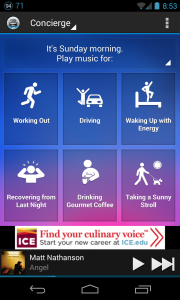 If you haven't heard about it yet, your world is about to change.  I was recently introduced to Songza (thank you Travis).  As a person that has music playing at every possible moment during my day, this definitely piqued my interest.  Through Songza you "listen to music curated by Music Experts." It's a collection of playlists organized by mood, activity, genre, etc.
If you are anything like me, your playlists match specific moods or situations (my itunes playlist includes goodbye, mad, loving it, and melancholy.)  Well, the amazing thing about this app is that it has many more situations, and access to much more music than is available in my collection.  As I write this I am listening to John Williams' score from E.T.  So motivational. It's very simple to use.  You can log on with Google or Facebook, or you can create a Sognza account.
Once you log in it takes you directly to the Concierge which, based on the time of the day, gives you different situations you would like music for.  If you don't see anything you like you can change which time of day you are viewing.  You can also Explore different playlists based on the mood, decade, genre, culture, or activity.  Under each of these options there are some playlists that are customized specifically for this situation.  There is also The Record Store Clerk with even more options an variety.  I can't imagine anybody not being able to find the perfect playlist.
Some of my favorite playlists have been Walking on Sunshine, Epic Film Scores, and Nature Sounds (while I'm falling asleep).  You have the opportunity to personalize the playlists based on your thumbs up or down options, you can skip up to 5 songs, and you cannot go back.
Another option to look under is Popular.  You can see which playlists are trending, featured, or all time ('90s One-hit Wonders!)  This is probably where I have spent most of my time, because apparently I am more interested in top hits.
The main issue I have had is that many of the playlists under Concierge aren't my taste in music.  I'm not a fan of techno or rock, and a lot of the playlists seem to have a lot of that.  I'm hoping that as I continue to hit thumbs down, the playlists will be more geared towards what I like.  Songza is also in the process of creating a way to filter out songs with explicit lyrics, but  it is not available yet.
Some of you may be interested in creating your own playlist for specific situations.  It is possible to create a playlist and submit it to the Songza editorial team.  You can read more about that here.
I am absolutely in love with this app.  It's got almost everything I need and want: great music, customizable, classy look, easy to use, and wide variety.  It will definitely be my primary streaming music source from here on out.  My only other desire is that they make an Available Offline option so that I can listen to it while I'm on the Subway.
So go download this app, and let me know which playlists you love.  Also, if you have any new and exciting apps, make sure to let me know about those in the comment section below.
Songza is available for free at: App Store, Google Play, Windows Store, BlackBerry World, SONOS, Amazon App Store, and U Browser.