No doubt about it, T-Mobile turned the wireless industry on its head in 2013. In that 12 month period, they eliminated 2 year contracts and upgrade eligibility requirements, added free global roaming for travelers in countries around the world, got aggressive with tablets on their network, giving 200 MB of free 4G LTE data to anyone — for life, and expanded their nationwide 4G LTE network coverage by tens of millions of people.
As these changes, part of CEO John Legere's "UnCarrier" initiative, continued rolling out throughout 2013, the entire wireless industry watched and scrambled to respond with their own competitive offerings. Verizon, Sprint and AT&T each launched their own version of T-Mobile's JUMP! program, which lets customers upgrade their phone as often as they'd like and trade in their old model.
What does the new year have in store for Magenta? Check out this ambitious list of 2014 initiatives the official @TMobile twitter account posted on January 1: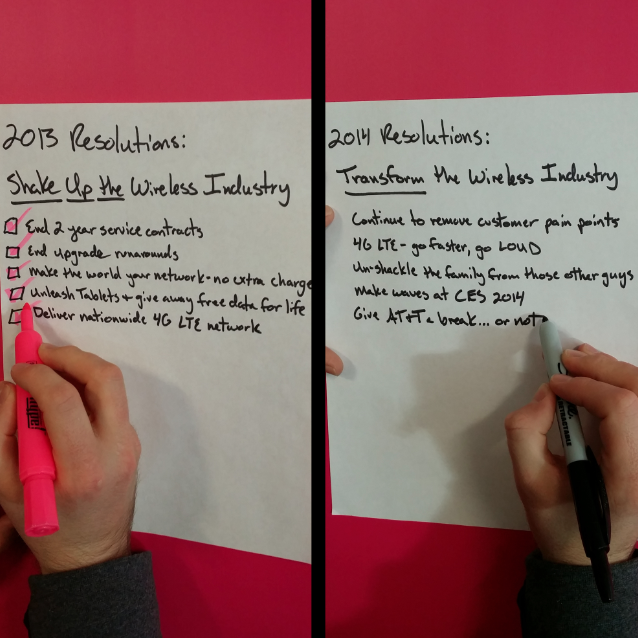 While most of the list is rather vague, we can start putting some of the pieces together. Obviously, they have plans to further expand their 4G LTE network, which is currently available mostly in larger cities. Rumor has it that the third item on the list — "Unshackle the family from the other guys" — might be about an upcoming promotion where T-Mobile will pay your early termination fees (ETF) — up to $350 —  if you switch from another carrier.
While much of this is still speculation, I know I speak for a lot of you in saying we can't wait to see what 2014 brings for T-Mobile. Keep it up, Legere & Co.
You May Also Be Interested In:
T-Mobile: The Wireless Underdog [Opinion]
T-Mobile Set to Unveil UnCarrier 4.0 in Early 2014
T-Mobile is Giving Everyone With a Tablet Free 4G LTE Data For Life
T-Mobile New Upgrade Program Will Allow You to Get a New Phone Every 6 Months
—–
You should follow Mike on Twitter for more great tech insights and good conversation. Be sure to say hello! You can also keep up with Mike on his personal blog: MikeBeauchamp.me, on Facebook, or on Google+.