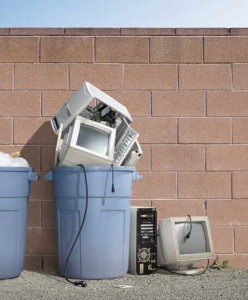 When I first saw the iPad I thought to myself, "that is the future of computers; soon there will be no desktops, no laptops, only tablets."  Maybe this is quite far off –in fact it is likely to be.  Tablets are not nearly as powerful as a laptop and laptops are usually a few steps behind desktops (speaking in terms of the parts inside of a computer).  But most people do not really care about the parts that make up their device, be it a laptop or tablet, so long as it performs the tasks they need it to.
With 2011 now being with us like a freshly-hatched chick, the predictions that tablets will sell more this year than laptops or desktops abound.  The professional services company known as Deloitte predicts that more than 50% of computing devices sold this year will not be PCs, but things like tablets and smartphones.  The days of large computing devices are moving further behind us and the smaller and thinner devices are taking the throne; which is a shame because the Apple II Desktop was just so charming!  I remember playing Oregon Trail on this bad boy back in elementary school!
All nostalgia aside, how do you feel about the upcoming dominance of tablet and other smaller computing devices?  Nostalgic, like me, or glad that technology is becoming smaller and more James Bond-like?
Image source: http://static.howstuffworks.com/gif/discarded-old-computer-1.jpg