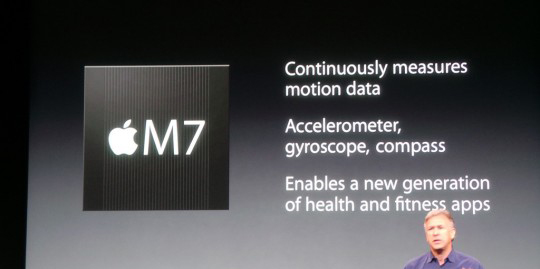 During Apple's keynote announcement on September 10th of the new iPhones, discussion was made about the worlds first 64 Bit processor placed in a smart phone. Meet the A7 chip. With over a billion transistors, the A7 is twice as fast as the A6 chip.
Not only are the graphics faster with the A7 processor, but colors and scenes in games are more true with this caliber of processing. All of the iOS7 Apps are 64 bit as well, meaning the Camera app can process photos faster. Apple says,
iOS 7 and all the built-in apps are optimized for the A7 chip. The Camera app is a great example.It takes advantage of a new image signal processor built into A7 to give you up to 2x faster autofocus, faster photo capture, and higher video frame rates.
Apple has also thrown another processor into the mix, the M7, a "motion coprocessor." What this means is the M7 can collect data without actually kicking on the full power of the A7 chip. This is a breakthrough for fitness and motion apps, where they can track your movement without draining the phone's battery. Gizmodo says this about the M7,
In the end, the M7 will give the iPhone 5S constant access to much more sensor data, while still delivering battery life on par with the 5. According to Apple, that's ten hours of 3G talk, ten hours of Wi-Fi browsing, 40 hours of music, and 250 hours of standby.
These latest developments in smart phone processing are definitely up to par with what you'd see in a desktop computer. It will be interesting to see, come September 20th, just how much of a difference these CPU power will make in the iPhone 5S.