In a really cool way to get buddies and chicks into his dorm room, Derek Low has completely automated his dorm room with an alarm, homework mode, and an emergency party mode for only 'a few hundred dollars'. He calls it BRAD, short for Berkeley Ridiculously Automated Dorm. Here it is:
Aside from using Justin Bieber for his morning alarm, the rest of the dorm room hacking is pretty killer. He uses motion detection sensors to control the shutters, lights, stereo, and more to enter sleep mode, homework mode, romantic mode, or even a party mode that turns on strobe lights, lasers, a fog machine, and a disco ball.


In addition to the motion sensors, his setup can be controlled on his iPhone, iPad, or using a dictation app on his Macbook Air.
So if you are looking for some home automation ideas, look no further than his online Laboratory for the exact materials, construction and operation of his killer setup.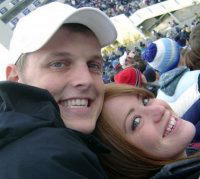 Caleb Hicks
Caleb is a teacher, entrepreneur, and tech enthusiast. He teaches kids (and his Mom) how to use computers for fun and profit. He loves to talk tech, gadgets, and Apple on Twitter (@calebhicks). Check out more posts by Caleb on his Author Page.