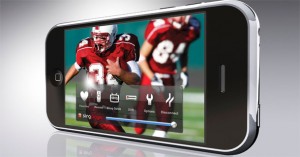 NBC and the NFL just announced that they are going to stream the Super Bowl online for the first time ever. The NFL has also partnered with Verizon to allow streaming to other mobile devices. This is exciting news for that sports fan who is also a tech enthusiast. Now you really have the ability to not miss any of the action. Just make that last-minute run to the grocery store with your smartphone in hand and you can still watch all those hilarious commercials…er, spectacular plays. Or you could tell your significant other that football playoffs are on all the time and that you would much rather go to The Nutcracker ballet, all while secretly watching/listening to the big game from your phone. Brilliant!
NBC has actually been streaming NFL games since 2008, but this will be the first year that they will also stream playoff games and the Super Bowl. Apparently the decision was based on the fact that they have not seen a drop in viewership due to additional online options. Instead, they are averaging 200,000-300,000 online viewers on top of the average 21 million TV viewers.
Last year, the Super Bowl drew in 111 million viewers and was the highest rated TV show of all time. This year, The Super Bowl is on February 5 and will be played in Indianapolis.