Well folks. It was posted and posted again, but now it is official, the white iPhone from Apple does exist. The announcement was made yesterday by a simple ad (seen above) shown when you visit Apple.com. The phone, as has been mentioned  before, was originally scheduled to be launched alongside the black model back in the summer of 2010. It's release however was kept in the dark as Apple cited manufacturing the unit as "more challenging to manufacture than expected." Yesterday though, all rumors and speculation have come to rest.
"The white iPhone 4 has finally arrived and it's beautiful," said Philip Schiller, Apple's senior vice president of Worldwide Product Marketing. "We appreciate everyone who has waited patiently while we've worked to get every detail right." Those must have been some intense details as the phone is almost a year old with rumors of its successor, the iPhone 5, coming in a few months.
Mac Rumors mentions that the Italian site, iSpazio (sounds lovely) has gotten a hold of the white iPhone 4 already as many European carriers have begun selling the phone before the official launch date. The site mentions that the proximity sensor above the ear speaker is a solid block of black which is different from prototype models that have been spotted that featured more of a grill design (see below). This could perhaps be addressing proximity sensor issues that have reportedly been plaguing the iPhone 4 since its launch. The site also mentions that the white iPhone 4 still has a bit of the infamous 'death grip' issue, but no real lack of signal quality was noticed.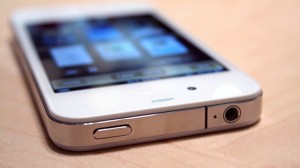 Either way, the white iPhone 4 is here. I feel like I'm seeing a unicorn in real life. The question is though…will you be getting one? Sound off in the comments…