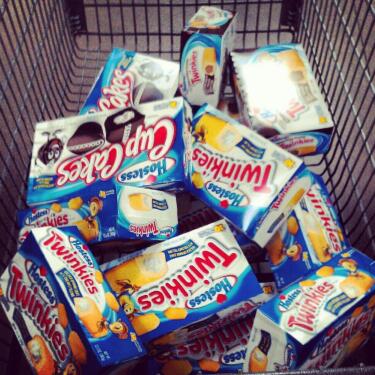 News broke this morning that Hostess, the company who makes the Twinkie, the Ding Dong, the Ho Ho, Wonder Bread, and other notable household brands is shutting its doors after a failed Union labor negotiation. The company didn't have the financial reserves to continue operating during a prolonged strike. Yet another example of Unions destroying American business, as nearly all of Hostess' 18,500 employees are now unemployed. But I digress.
Here are 10 great tweets about the Twinkie.
What am I going to do now? My favorite lunch is a pack of #Hostess #Twinkies washed down with a Five Hour Energy Drink

— Stuart Elliott (@stuartenyt) November 16, 2012
Fun fact: as a kid, I once ate 12 #Twinkies in an eating contest against my cousin. He beat me with 14. Ah, those were the days! — Beth Sachan (@betheats) November 16, 2012
RIP #twinkies…we had a good run together. Thank you for all of the natural insulation you gave me through the years #truefriend

— James David Carter (@JDCmusic) November 16, 2012
#Twinkies in the news: President Clinton put one in a White House Millennium time capsule back in 1999. It's still there. — West Wing Reports (@WestWingReport) November 16, 2012
Guess state fairs have to find something else to deep fat fry. #Twinkies

— Jamie Sandford (@jsandford) November 16, 2012
Cart full of Hostess, money well spent. #twinkies instagr.am/p/SGSV5PM3jW/ — Spencer Morris (@SpencerStu92) November 16, 2012
Somewhere in China, ground is to be broke for a very large bakery.#Twinkies

— Shaun McDonnell (@McShauno) November 16, 2012
Hostess is liquidating, which means there will be no more#Twinkies. Luckily, the Twinkies I currently have stashed are fresh until 2085. — April Wheeler (@LABeachmom) November 16, 2012
Someone needs to save the #Twinkies before Honey Boo Boo withers away.

— Mewtwo (@CoolMewtwo) November 16, 2012
Running to store to get #Twinkies ! For my grand kids…so 20 yrs from now they'll have a piece of history.. Still be good to eat then too! — Double A (@AhmedAhmed456) November 16, 2012

—–
You should follow Mike on Twitter for more great tech insights and good conversation. If Twitter isn't your thing, fear not, you can always keep up with Mike on his personal blog as well at: www.MikeBeauchamp.me or on Facebook.
—–
[Img: @SpencerStu92]