Christmas isn't for a few more weeks, but when I opened my email inbox this evening and saw that I'd received a pre-launch invite to the new Myspace, I was pretty excited.
More than a month ago, I saw the teaser sizzle video for the new incarnation of the Justin Timberlake-backed Myspace, and I was dazzled by the design and hipness of what they promised to offer. Now, I can share with you all an early look at what the new Myspace looks like. I don't know at this point how many other people are on Myspace, and I imagine that we are just days, if not hours, away from a 2011-esque flood of people clamoring for invites and threatening to leave Facebook (like they did for Google Plus, remember?), but for now, here is a look at the "unboxing process" of the new Myspace.
1) The email: Here is the email invitation that I received.
2) The "Join Myspace" page, with options to either sign up from scratch, or pre-populate data with your old Myspace account (who remembers that?), Facebook, or Twitter. I chose the Twitter option.
3) When I loaded my Twitter account, it synced with my Twitter profile picture, my full name, and my Twitter username, which UNFORTUNATELY, was unavailable for me. (It is Tyspace, I would like it to be relevant in Myspace.)
4) Once signed up, Myspace asks you to start building your profile by selecting a series of words/interests that you associate with.
5) The next step in the sign up process is to upload profile picture, and a small profile of up to 150 characters.
6) The photo upload process is familiar from other services. You upload a photo and crop it to your liking.
7) The profile completion process is also simple and quick. This is the last step between you and discovering the world of the new Myspace.
8) This is the screen I was first greeted with when I completed my profile. Usually I skip "Tour This Site" options when they pop up, but one would have been useful here. I am not sure whether the people in those thumbnails on my screen are musical artists or people I'm recommended to "follow."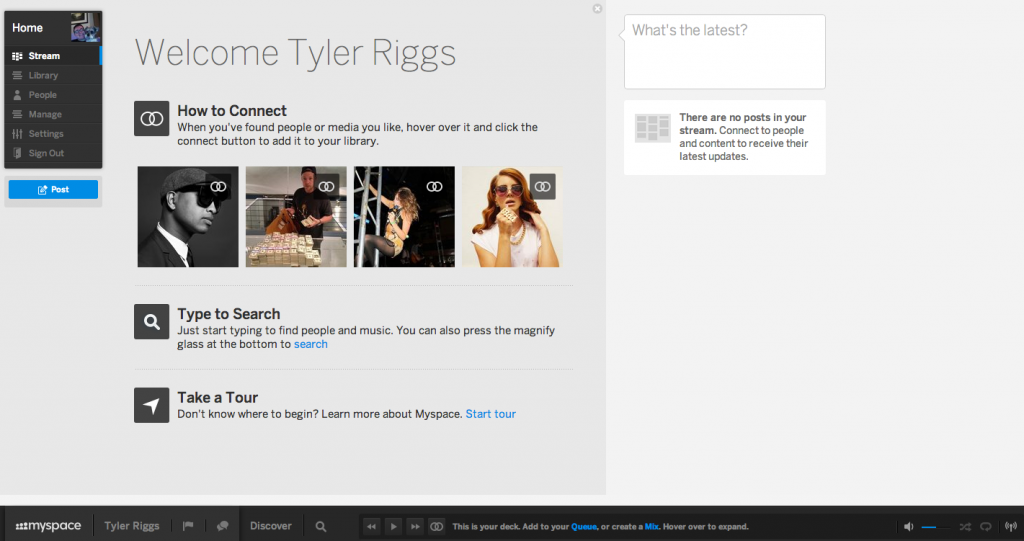 9) This is what it looks like when I hover over one of the thumbnails. It tells me a little about the affinity I would have with that person as a connection.
This is the unboxing of the new Myspace. I am not going to pass judgment until spending some time with it, but I can say up front that the design definitely looks nice. Everything is clean, and the blacks, whites, and grays are very modern looking. I will return with more information and screen shots after having a few moments to get familiar with the interface and play around with it.