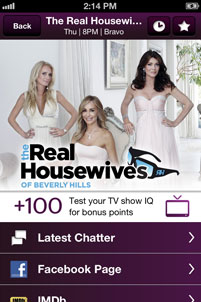 You know those restaurant or store loyalty cards that clutter your wallet and rarely end up paying off? What if there was a loyalty card of sorts for your TV consumption?
The barely month old iOS app Viggle is that loyalty card. Viggle, which already has over 200,000 active weekly users, uses audio signals to recognize what show you're watching and then rewards you points upon a simple check-in.
Viggle's points can be racked up and turned in to all sorts of fun rewards including movie tickets, music and even gift cards to restaurants or stores like JCPenney, Best Buy, Starbucks or even Sephora.
A typical hour long show equals about 150 points but American Idol can sometimes score a fan 300 points. One movie ticket, for example takes 17,500 points. A $5 gift card to Burger King? 7,500 points.
If this seems like a lot to you don't worry. Viggle offers a few easy ways to earn more points. Extra points are awarded for inviting friends, checking in to featured shows (worth bonus points) and, in a brilliant twist of fate for advertisers, watching certain promoted commercials.
Viggle also makes TV more interactive in general as it capitalizes on what we already know about it: its becoming ever more social. The app offers a chatter section where viewers can scan recent chatter, add their own voice to the conversation or look at what shows have been most chatter-worthy.
Select a show and Viggle offers links to the program's Facebook page, IMDb, Wikipedia page and even merchandise on iTunes and Amazon.
Viggle even links easily to your local cable provider to let you set reminders for shows, search for shows and see what others may be viewing near you.
So TV lovers, you get 1,500 points just for signing up. Get on it!