New rumors about the next MacBook Pro update hint that the MBP may drop the optical drive like the MacBook Air did. We don't know if Apple will kill the MBP's optical drive, but would you?
Benefits: Better battery, faster OS.
Replacing the optical drive could give you a faster OS and larger battery.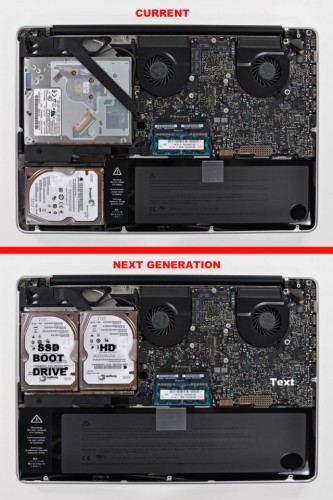 Here's a mock-up of the possibility:
This is just a mock-up, but it effectively illustrates what you could do without an optical drive.
Be honest — when was the last time you used your DVD drive?
An improved battery is always a huge bonus. I've noticed that I'm starting to use my iPad more than my laptop because I never have to worry about plugging in.
The faster OS would be possible due to an additional Solid-State Drive. This shouldn't be too expensive to implement because a dedicated SSD for the OS wouldn't require as much space.
Time to wait and see
Though this is just a rumor, I'd hold off on buying a MacBook Pro until it's updated.
Using previous release dates as a guide, the MacBook Pro could be updated as soon as June 11 or as late September 5. (Check out the Buyer's Guide by Mac Rumors for details on previous release times)
We still don't know what the next update will entail, but we'll find out soon. Would you be willing to kill the optical drive for a faster OS and longer battery life?
[Image source: SlashGear]