In case you're living under a rock, Pinterest is all the rage these days. Especially if you're a female between the ages of 25-44, but men seem to be jumping on board in large numbers lately as well (My husband initially lamented my signing up, and then two weeks later he joined himself). According to tracking from Hitwise, Pinterest recently made the list of the top 10 social networking sites, with 11 million unique monthly users. From June to December 2011, Pinterest's users grew 40 times over, which is unbelievable growth.
Pinterest has been described by some as "blogging on steroids". Others see it as a collection of "things". For me though, Pinterest is all about ideas. It isn't so much about the "things"- items to purchase or things like that.  Sure, there are some of those, but really where I've benefitted the most have been through ideas. Here is a list of just a few of the ideas I've gained from Pinterest that I've actually done that have benefitted me in some way or another (you can follow my boards here):
How to easily remove the crud from my showerhead with household products, and no scrubbing! This one still makes me happy.
How to actually style my hair in a somewhat creative way and ideas for new haircuts
Recipes, recipes, recipes!
Workouts that I should probably do a lot more often…(but I have done some of them!)
Little ways to entertain my toddler on a daily basis
Multiple ideas for this here blog
Etc., etc., etc.
Frequently, Pinterest has replaced Google for me when I need an idea. Need a creative recipe for the holiday party? Pinterest. Need to figure out how to organize your basement? Pinterest. Need a new workout routine? Or to find the best learning apps to download for your kids? Or what to do with that big blank wall in your house? Or figure out where to take your next vacation? Pinterest every time, man.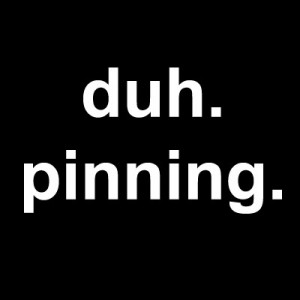 (via)
The beauty of it too, is unlike using a search engine, once you find your idea you can pin it to specific "boards", where the pin and link to the actual website will be stored and you can forever refer back to it, with a handy-dandy image to remind you of what exactly it was.  Gone are the days where I'd create ridiculously long lists of urls that I've bookmarked, or Word documents full of images to act as inspiration for some upcoming project or event. And even better, by following like-minded people I can easily come across these ideas without even having to search for them.
I'm telling you, it's addictive.
So, is Pinterest perfect? No. There are some things that could probably be improved, which I'm sure we'll see over time. But holy smokes, I'm hooked.
What about you?  Do you use Pinterest?  What do you use it for?